Welcome To iStay (Serenity Villa)
Vibrant interiors, artistic paintings, and aesthetic decor, the Serenity Villa perfectly simulates the home-living experience, while giving you a chance to stay in a luxurious set up.
A 'haven of peace' for corporate employees, who're exhausted by frequent travels, this beautiful and cozy guest house is perfect for business travelers and leisure travelers in IMT Manesar. Located within 1.5 km distance from NH-24, the guest house is easy-to-reach, and is only a 3 km drive away from the industrial hub and the golfing fraternity: Honda, Denso, Maruti-Suzuki, Mitsubishi, Wills Life Style, Karma lakeland and Manesar golf course, Rockland hospital… you name it and the place is within our reach …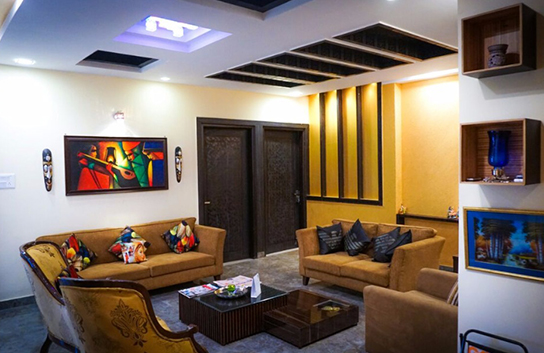 A Luxurious Experience You'll Remember!

Ideal Location
Simply the best location, closer to the industrial sector, a must-have for a corporate guest!

Budget Friendly
An affordable luxury, the Serenity Villa gives you a luxurious experience at an affordable price!

Homemade Food
Home-made and delicious, the chefs at the villa make sure that you don't miss on home-cooked meals even for a day!

Great Facilities
WiFi, gym, a conference room, laundry service, the villa is equipped with modern facilities for your comfort and convenience.
So, what makes us "the best guest house for corporates in Gurgaon"?
Home-stay like experience: Come and revel in our home-stay like experience with the top-rated hotel like facilities. We offer a peaceful environ for a corporate traveler, and an aesthetically appealing environ for a causal traveler.
Location is a plus: When it comes to traveling to Delhi-Gurgaon, endless traffic can overwhelm a visitor. The Serenity Villa is located at a distance of 1.5 km from the National Highway (NH) – 24, and is within 3.5 km area of the industrial hub and the golfing range.
Modern amenities for a convenient stay: We understand that a corporate employee needs to stay connected at all times for business purposes. The villa is equipped with Wi-Fi, power back up, a conference room to give you a perfect set up.
Recreation and other services:  To make your stay a little more comfortable, an LED TV, laundry services, and home cooked meals are provided. We aren't far behind in the recreation front as well – work your sweat out in the stylish mini-gym and an indoor games area in the basement.
Home-cooked meals for a happy you: No one can call it a home-like experience and not offer home-cooked meals! We serve home cooked meals that'll be a gentle reminder of how your mother cooks. We serve food that's not just sumptuous but inviting enough to inhale the aromatic flavors created in out in house kitchen.